Battlefield guide - 15 €
CMNHWK / Thierry EHRET
This guide presents all the explanatory signs that are dotted along the 4.5km discovery trail of the Hartmannswillerkopf

Available in French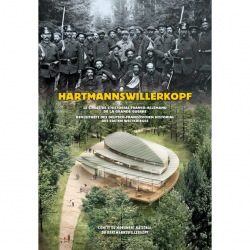 Booklet of the Franco-German Historial - 9 €
Gerd KRUMEICH, Nicolas OFFENSTADT (dir.)
How can one understand the Great War? How can one tell its story? What new discoveries have we uncovered? Written by leading experts, this booklet goes over these questions and others regarding the study of the First World War. It also explains the uniqueness of the Hartmannswillerkopf Franco-German Historial, which opened its doors to the public for the first time in August 2017. Finally, the booklet also allows the reader to discover, or rediscover, a visit within its walls.
Tourist map of Hartmannswillerkopf - 2 €
CMNHWK / Sigrid SCHWAMBERGER
A hiking and historical map of the Vieil Armand sector.
Available in both French and German.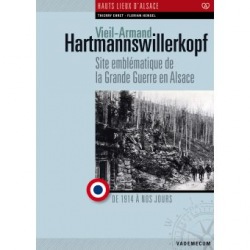 Hartmannswillerkopf, an iconic site of the Great War in Alsace - 15 €
Thierry EHRET, Florian HENSEL
Hartmannswillerkopf is an iconic site of the Great War in Alsace and one of the four French national monuments dedicated to commemorating that conflict. Unknown before the war, this mountain gained considerable renown in both France and Germany following the bloody struggle to control it during 1915. However, whilst these events in themselves gave birth to a complex battlefield , it was only the procedures carried out after the conflict that made it a major site of the First World War.
Available in French and German.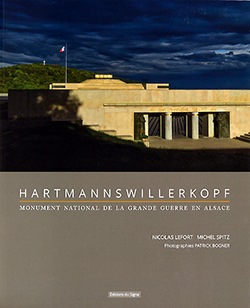 Hartmannswillerkopf - 25 €
Nicolas LEFORT, Michel SPITZ
After the First World War (1914-1918), the Hartmannswillerkopf National Monument was erected to commemorate both the sacrifice made by French soldiers on this Vosgian battlefield and the return of Alsace to France after more than half a century.
Instituted by a committee founded in Mulhouse in 1920, this architectural masterpiece, designed by the architect Robert Danis and the sculptor Antoine Bourdelle, was constructed between 1924 and 1932.
Available in French.
Hartmannswillerkopf 1914 - 1918 - 35 €
Thierry EHRET
Hartmannswillerkopf, a mountain that dominates the Alsatian plain, was the scene in 1915 of a violent struggle between the French and German armies…
Available in French.
DNA Special Edition Passion Vosges - 12 €
Sentiers de mémoire de la Grande Guerre 1914-1918
Four generations have passed but the shells and bones still resurface from time to time, reminding us of the chaos that reigned a hundred years ago...
On sale at the DNA newspaper headquarters.
Available in French.